The little big project. From zero to hero in two weeks with 3 front-end engineers only.
Talk video
Talk presentation
It is believed that the front end is only one part of the job. We need a backend to store data, we need some DevOps. Oh, I also forgot about QA. There are legends about titans from the past who could single-handedly draw a design and launch a website.
But here's the real story: we has the Great Idea, it won't work without a back-end, there are only front-end developers in the team, outsourcing is possible only in design, the deadline is too near. Just smile and wave... Or we will can realised the project uses front-end technologies only, cut comlicated things, dive into devops. Spoiler: we did it, the Bobuk-Bacek formula works, JavaScript is power.
You will find out how I Love Front-end was launched, what was cut off by Occam's razor and why everyone hates the Mona Lisa.
Audience and level.
Full-stack developers and front-end developers who want to learn how to make back-end for front-end. Just curious guys. Level from junior to middle.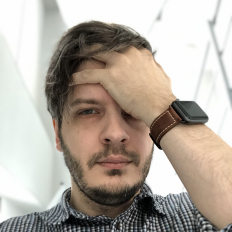 Andrey Melikhov
Arrival
Senior Backend Developer at Arrival
Frontend-backend developer, node.js-developer. He started with the development of geophysical equipment, hardware and hardcore on C++, but made it to fintech and JavaScript
«Веб-стандарты» YouTube channel co-host
«ОЧП» YouTube channel co-host
Member of the program committee at the«Я люблю фронтенд» conference
Spends money earned in the frontend on cameras and microphones