Manifesto of the successful success: how to develop yourself, innovations, bakehouses and anything else
Talk presentation
Maxim will share universal and "magic" rules that help to develop absolutely any project, it can be the opening of a bakery, the transformation of an old exhibition complex into the most visited place in Ukraine, the old factory - into the first innovative park or the transformation yourself into the better version.
Talk will be delivered in a format:
20 minutes presentation
20 minutes for question and answers session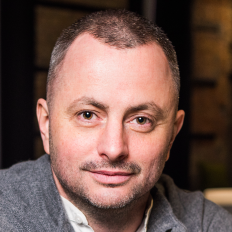 Maxim Bakhmatov
UNIT.City / Radar Tech [Business]
Managing partner at the first Ukrainian innovation park UNIT.City, сhairman of the Board at the Radar Tech Corporate startup accelerator.
In the past two years, he headed VDNG, together with the team created and implemented the previous concept of reorganization of the exhibition complex.
Earlier, together with a partner, he created and successfully sold the UGE IT software company to SoftServe, founded the Comedy Club UA and a number of media projects.
Within a month he lived inside the show window of the Citrus store aimed to save kids with heart disease.
Businessman, entrepreneur, innovator.